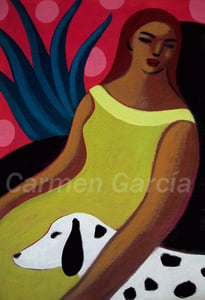 €

30.00
This is a print of an original work I made titled "Mujer y dálmata". The original painting was made in acrylics,
The size of the print is 25 x 18,5 cm
It has been printed with archival inks onto heavyweight archival paper and there is a white border all around the edge for framing.
The print comes with a backing board and clear plastic sleeve, and is signed and dated by the artist.Edition 30 .
Es un grabado digital de una obra original titulada "mujer y dálmata. La obra original está pintada en acrílico sobre papel.
El tamaño de la impresión es de 25 x 18,5 cm. en papel de alto gramaje y con tintas de gran calidad.
Estampado con un espacio alrededor para facilitar el enmarcado, se envia con embalaje rígido y protegido con plástico.Edición de
30 ejemplares.